"Wine is the only artwork you can drink."

Luis Fernando Olaverri
Whether you're a wine amateur or expert, Stage Stop Liquors carries a fantastic variety of wines that are perfect for any occasion or budget. We've got you covered from your classics, like Cabernet and Chardonnay, to your trendy Rosés and Proseccos. Stop in and explore our beautiful wine section – our friendly staff is here to help you choose your perfect pairing!
Explore: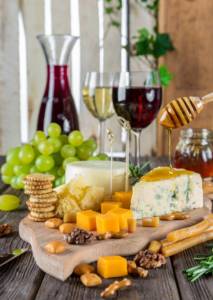 Don't see what you're looking for?
Submit a request, and we'll look into getting it for you.
SUBMIT A REQUEST
Red

Zinfandel
Grenache
Tempranillo
Rhone Blend
Carignan
Syrah (Shiraz)
Malbec
Petite Sirah
Monastrell
Pinotage
Cabernet Sauvignon
Merlot
Cabernet Franc
Cerménère
Bordeaux Blend
PINOT NOIR
(pee-noh nwar)
Light- to medium-bodied and fruit-forward with high acidity and relatively light tannins
Not too dry, but not sweet with flavors of strawberry, cherry, raspberry, blackberry, plum, and baking spices such as cinnamon & clove
Pairings: Pairs well with large variety of foods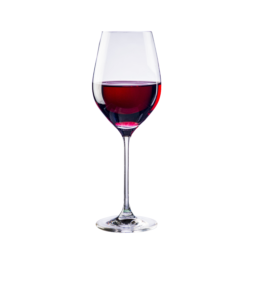 GAMAY
(gah-may)
Light-bodied and similar to Pinot Noir with high acidity and light tannins
Fruity, floral and earthy notes featuring cherry, raspberry, cranberry, blackberry, plum, black currants, banana, violets and potting soil
Pairings: Pairs well with large variety of foods
SCHIAVA
(ski-ah-vuh)
Light-bodied with low tannins and low acidity
Features notes of strawberry, sweet cherries, raspberries & red currants, violets & almond
Pairings: Pairs well with large variety of foods
ZINFANDEL
(zin-fuhn-del)
Light- to medium-bodied with medium to high tannins and high acidity
Features raspberry, blackberry, black cherry, plum and jam flavors with spice & black pepper
Pairings: Pairs well with large variety of foods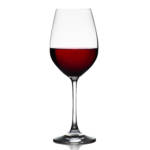 GRENACHE
(gruh-nosh)
Medium-bodied with medium tannins & acidity
Fruity with flavors of strawberry, raspberry, black cherry and blood orange, with dried herbs, leather and notable cinnamon spice
Pairings: Roasted, grilled and stewed meats and vegetables, Asian seasonings
TEMPRANILLO / SPANISH RIOJA
(tem-prah-nee-yoh / ree-oh-hah)
Medium-bodied with medium tannins and acidity; often aged in oak
Known for being savory and featuring cherry, plums, dried fig, dark and tart red fruits, red flowers, savory herbs, tobacco, cedar, leather, and earth
Pairings: Pairs well with large variety of foods
RHONE BLEND
(rohn)
Medium-bodied red blend of a combination of Syrah, Grenache, Mourvèdre, Roussanne and Viognier grapes.
Rhone Blends made with Syrah tend to be bold with spice and tannins, while those made primarily with Grenache are more rounded with ripe fruit flavors and earthy/herbal notes
Pairings: Pairs well with large variety of foods
CARIGNAN
(care-in-yen)
Medium-bodied & fruit-forward, rich and smooth with medium tannins and medium-high acidity
Features red fruit, baking spices, earth, tobacco & cured meat flavors
Pairings: Rich poultry & duck, red meats, cinnamon-spiced dishes – great for fall & holiday meals
SYRAH / SHIRAZ
(sih-rah / shi-rahz)
Dark and full-bodied with medium tannins & acidity
Features dark fruits, blackberry, blueberry, jam, olives and spices (pepper, clove, & rosemary), tobacco, herbs and smoked meat with a peppery aftertaste
Pairings: Darker meats, game meats, barbecued & grilled meats, vegetables, hard cheeses, stews, Asian & Indian spiced foods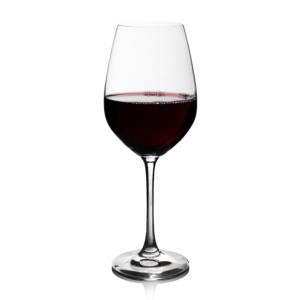 MALBEC
(mahl-behk)
Full-bodied with medium tannins and acidity
Features dark fruit flavors such as black cherry, plum, raspberry, blackberry, and blueberry with a smoky finish; Other flavors can include cocoa, coffee, leather, black pepper and tobacco
Pairings: Lean red meats, poultry, smoked meats, barbecue, rich and creamy cheeses
PETITE SIRAH
(peh-teet sih-rah)
Full-bodied with medium acidity and high tannins
Features sugar plum, blueberry, dark chocolate, black pepper & spice
Pairings: Richer foods and fattier meats such as pork and beef; bold cheeses and spices
MONASTRELL / MOURVÈDRE
(mohn-ah-strehl / more-ved)
Full-bodied with high tannins & medium acidity
Features blueberry, blackberry, plum, black pepper, herbs, floral notes, and meaty & smoky flavors
Pairings: Hearty & meaty dishes
PINOTAGE
(pee-noh-tahj)
Bold, dark & full-bodied with high tannins and relatively low acidity
Features plum, blackberry, raspberry, red pepper, bacon, sweet tobacco, and barbecue with a sweet smoky finish and earthiness
Pairings: Roasted meats and vegetables, stews, barbecue
CABERNET SAUVIGNON
(kab-er-nay soh-vin-yohn)
One of the most famous red wines – dark, full-bodied with medium acidity, high tannins & savory flavors; aged in oak barrels
Features dark fruits such as black cherries, blackberries & black currants, green peppers, tobacco, vanilla, baking spices & herbs
Pairings: Rich & savory dishes, red meats, grilled meats, hearty vegetables
MALBEC
(mahl-behk)
Full bodied with medium tannins and acidity
Features dark fruits such as black cherries, plums, raspberries, blackberries, & blueberries, cocoa, coffee, leather, black pepper, tobacco, and mocha with a smoky finish
Pairings: Lean red meats, lamb, pork, chicken, rich cheeses, peppery dishes, cream sauces
MERLOT
(mur-loh)
Dry and full-bodied with medium-high tannins & medium acidity
Features fruit-forward flavors of plum & cherry along with chocolate and vanilla
Pairings: Pork, lamb, red meats, poultry, hearty dishes
CABERNET FRANC
(kab-er-nay frahnk)
Dry and medium-bodied with medium-high tannins & acidity
Features strawberry, raspberry, bell pepper, chili peppers, violets & tobacco
Pairings: Pairs well with large variety of foods
CARMÉNÈRE
(kahr-meh-nehr)
Dry and medium-bodied with medium-high tannins & acidity
Savory with flavors of raspberries, cherries, blackberries, bell pepper, black plum, vanilla & spice
Pairings: Smoked, grilled or roasted meats, savory dishes & spices, hard cheeses
Riesling
Moscato
Gewürtzraminer
Torrontes
Chenin Blanc
Pinot Gris / Pinot Grigio
Albariño
Soave
Melon / Muscadet
Sauvignon Blanc
Vermentino
Verdejo
Grüner Veltliner
RIESLING
(reez-ling)
High acidity with wide range in body from light to full and sweet to dry
Features flavors of apple, apricots, peaches, pears, pineapple & citrus
Pairings: Pairs well with large variety of foods – especially spicy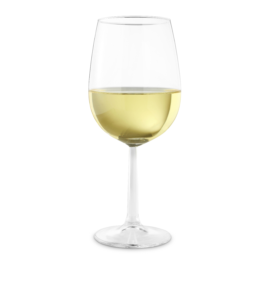 MOSCATO
(mohs-kah-toh)
Light-bodied & semi-sweet to sweet
Features orange citrus, pear, peach, apricot, lemon & honeysuckle; can be lightly sparkling
Pairings: Pairs well with large variety of foods – especially spicy
GEWÜRZTRAMINER
(geh-vairtz-trah-mee-ner)
Medium-bodied and semi-sweet
Features grapefruit, tangerine, ginger and strong floral notes
Pairings: Pairs well with large variety of foods – especially spicy
TORRONTES
(tohr-ron-taze)
Off-dry and light- to medium-bodied with medium acidity
Features peach, citrus, and floral notes
Pairings: Spicy foods
CHENIN BLANC
(shen-in blahnk)
Off-dry and light- to medium-bodied with high acidity
Features pear, melon, pineapple, yellow or green apple, banana, honey and floral notes
Pairings: Pairs well with large variety of foods
PINOT GRIS / PINOT GRIGIO
(pee-noh gree / pee-noh gree-jho)
Light- to medium-bodied and dry with medium-high acidity
Features lemon, lime, nectarine, green apple, and pear with floral notes & sweet spices
Pairings: Pairs well with large variety of foods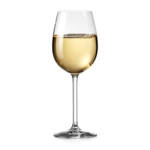 ALBARIÑO
(ahl-buh-reen-yoh)
Light-bodied & dry with high acidity
Features peach, pineapple, nectarine, melon, citrus, saline, and honeysuckle; can be slightly sparkling
Pairings: Seafood
SOAVE
(swah-vey)
Light- to medium-bodied and dry
Features melon, peach, orange zest, honey, marjoram, dried sage & saline; can be slightly sparkling
Pairings: Pairs well with large variety of foods
MELON / MUSCADET
(meh-loh / muss-kah-day)
Light-bodied and bone-dry with high acidity
Features lime, green apple, pear, saline, and yeast
Pairings: Seafood
SAUVIGNON BLANC
(soh-vin-yohn blahnk)
Light- to medium-bodied, dry & crisp with high acidity; sometimes oaked
Features melon, grapefruit, peach, gooseberry, passion fruit, herbs, fresh-cut grass
Pairings: Chicken, fish, oysters, herb-flavored dishes, Asian dishes, goat cheese, green vegetables
VERMENTINO
(vair-men-tee-noh)
Light- to medium-bodied and dry with medium-high acidity; can be oaked
Features lime, green apple, grapefruit, pear, peach, pineapple, almond, salt flavors
Pairings: Light meats & hearty fish with herbs & richer sauces
VERDEJO
(vair-day-ho)
Light-bodied, crisp and dry with medium-high acidity
Features lime, melon, peach, fennel, herbs, nuts & honey
Pairings: Light meats & seafood, Mexican & Spanish cuisine
GRÜNER VELTLINER
(grew-ner velt-lee-ner)
Light- to medium-bodied and dry with high acidity
Features lemon, lime, grapefruit, starfruit, gooseberry, green beans, baking spice, white pepper
Pairings: Light meats & seafood
CHARDONNAY
(shahr-doh-nay)
One of the world's most popular wines; Medium- to full-bodied and dry with medium acidity; often oaked
Features starfruit, apple, pineapple, pear, melon, vanilla & butter
Pairings: Heavy cream or butter-based dishes, poultry, pork, seafood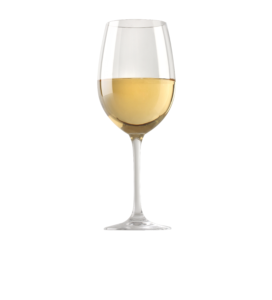 SÉMILLON
(sey-mee-yohn)
Medium- to full-bodied and dry with medium acidity; often oaked
Features lemon, peach, nuts, honey, herbs, & saline
Pairings: Richer fish & white meats, heavy cream dishes & light herbs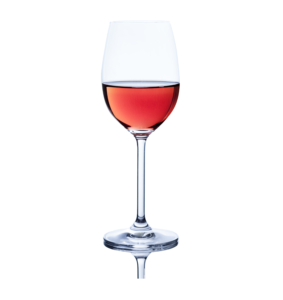 (roh-zay)
Light-bodied and dry with medium acidity – made by juicing red grapes but only soaking the skins in the juice for a short period of time (or pressing red grapes right after harvest)
Often a refreshing summer wine with flavors of strawberry, melon, raspberry, cherry and rose petals
Pairings: Light meals such as fish, chicken, salads, light pastas, & fruit
Most often sweet (but some can be dry) and meant to be drank in small quantities – often as dessert following a meal
Fortified
Made by adding spirits (commonly brandy) to the wine; examples include Sherry, Port & Madeira
Wines are aged, often sweet, fruity and/or nutty with notes of spice
Late Harvest
Richly sweet wines made from late-harvested grapes, which are very ripe and sweet
Noble Rot
Made with grapes that have been affected by a type of fungus called "Noble Rot" or Botrytis cinerea
Features flavors of honey, ginger, spice & exotic fruits
Ice Wine
A very sweet and fruity wine made from grapes that have frozen on the vine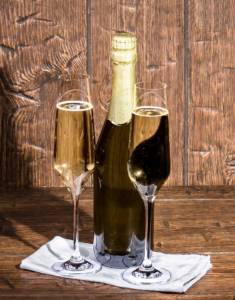 Wine that undergoes a second fermentation process that results in the release of carbon dioxide and, thus, bubbles
Ranges from light to full-bodied and sweet to dry
Flavors range from light, floral & fruity to rich & nutty
Four main types of sparkling wine:

Extra-Brut – dry
Brut – dry but a hint of sweetness
Extra Dry – dry but slightly sweet
Demi-sec – sweet
Champagne
True champagne comes from the Champagne region of France and meets certain regulations
Dry with high acidity and subtle sweetness with flavors of apple, citrus, bread, chalk, nuts and toast
Prosecco
Light, dry and fresh Italian sparkling wine with flavors of citrus, melon & pears with floral notes
Spanish Cava
Light- to medium-bodied and dry to off-dry and creamy, with flavors of apple, citrus, almonds & bread